Professional EOS® Implementer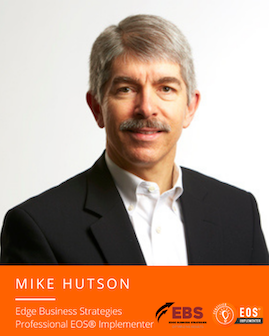 As a Professional EOS® Implementer, Mike trains and equips business owners and their leadership teams to strengthen their business, improve performance, knock down barriers to growth and achieve their vision. His role is to teach and facilitate, enabling the leadership team to develop quickly and effectively what works in their unique environment.
Why Mike Does It?
To Change the Outcome. After spending 20-years working directly for two different entrepreneurs to scale five different businesses in manufacturing, distribution, logistics and technology, his passion is to help entrepreneurs avoid the traps that devour businesses and build an institution with a life of its own. Making business easier to manage, more scalable, more profitable, and more fun, improving the quality of life for all.
Service Providers – Why partner with a Professional Implementer?
What are you doing to deepen the trust relationship with your clients? Or, helping strengthen their business so that they have more need for your services? Whether you are an accounting firm, bank, wealth advisor, private equity firm, business attorney, marketing firm, or any other professional business service provider engaged in helping business owners, you can substantially enhance your role as a trusted advisor through partnering with a Professional EOS® Implementer as a subject matter expert.
Conducting EOS® sessions at your office will deepen your client relationship, differentiate you from others in a truly unique manner, and generate more and better work with your clients.
CLARIFY, SIMPLIFY, AND ACHIEVE YOUR VISION